Class Traits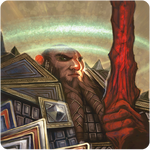 Role: Defender. You are tough and fast, while your mastery of psionic magic allows you to outwit your foes. Depending on your choice of class features and powers, you lean toward either controller or striker as a secondary role.
Power Source: Psionic. You are a psionic warrior, a weapon master who combines physical might and a cunning intellect.
Key Abilities: Constitution, Wisdom, Charisma
Armor Proficiencies: Cloth, leather, hide, chainmail, scale; light shield, heavy shield
Weapon Proficiencies: Simple melee, military melee, simple ranged
Bonus to Defense: +2 Will
Hit Points at 1st Level: 15 + Constitution score
Hit Points per Level Gained: 6
Healing Surges per Day: 9 + Constitution modifier
Trained Skills: From the class skills list below, choose three trained skills at 1 st level.


 

Class Skills: Arcana (Int), Athletics (Str), Bluff (Cha), Diplomacy (Cha), Endurance (Con), Heal (Wis), Insight (Wis), Intimidate (Cha)
Build Options:
Class Features: Psionic Augmentation, Psionic Defense, Psionic Study
"My mind is afar deadlier weapon than some illcrafted
bit ofiron."
Description
As wanderers, mercenaries, and adventurers, battleminds are carefree warriors who seek only to test their skill against the mightiest and most dangerous opponents. Battleminds possess a potent combination of psionic and physical skill, allowing them to use their magic to manipulate and deceive their foes even as their fighting skill lets them carve a swath through enemy ranks. Battleminds tend to be bold and sometimes arrogant, an attitude earned through bringing ruin to enemies over the course of many conflicts.
You might not share your fellow battleminds' arrogance, but you do have access to an array of combat abilities that let you manipulate, baffle, and defeat your enemies. Your mind is as deadly as your weapon. and with the aid of your psionic magic. your body can turn aside attacks as effectively as a suit of plate armor can.
Let those who would stand against your might quiver in terror when you approach, for you are a battlemind, and supremacy in combat is your birthright.
Battlemind Overview
Characteristics:
Religion:
Races:
Creating a Battlemind
X
BUILD #1
writing
Suggested Class Feature:
Suggested Feat:
Suggested Skills:
Suggested At-Will Powers: x
Suggested Encounter Power: x
Suggested Daily Power: x
BUILD #2
writing
Suggested Class Feature:
Suggested Feat:
Suggested Skills:
Suggested At-Will Powers: x
Suggested Encounter Power: x
Suggested Daily Power: x
Battlemind Class Features
X
Battlemind Powers
X
Class Features
X
NAME OF POWERS
Level 1 At-Will
Level 1 Encounter
Level 1 Daily
Level 2 Utility
Level 3 Encounter
Level 5 Daily
Level 6 Utility
Level 7 Encounter
Level 9 Daily
Level 10 Utility
Level 13 Encounter
Level 15 Daily
Level 16 Utility
Level 17 Encounter
Level 19 Daily
Level 22 Utility
Level 23 Encounter
Level 25 Daily
Level 27 Encounter
Level 29 Daily